Tennessee's defense — a flawed but overall decent group for most of the season — took it on the chin in Saturday's shocking, 63-38 loss at South Carolina.
A 22-point underdog jumped on Tennessee and never relented, beating the then-fifth-ranked Vols by 25 points, collecting 606 yards along the way.
South Carolina junior quarterback Spencer Rattler — a former touted prospect and starter at Oklahoma — entered Saturday's game with eight touchdown passes and nine interception on the season. He completed 30 of 37 passes for 453 yards, six touchdowns and zero interceptions against the Vols, whose College Football Playoff chances crashed and burned as a result.
Linebacker Aaron Beasley — who had five tackles, three tackles for loss and one sack at South Carolina — essentially said Tennessee's defense learned a painful lesson about humility in Columbia.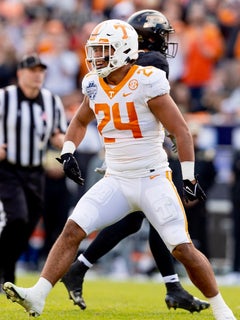 "Our biggest thing was just execution," said Beasley, a senior. "We didn't execute, you know, the calls we should have executed. Just, in my opinion, the urgency, man, to start a game we have enough urgency. We thought we was gonna come in there and just, you know, everything was gonna fall where it was supposed to. But, you know, it don't work like that in college ball.
"I think that was the biggest thing, just execution. And the urgency wasn't there."
Beasley admittedly was at a loss to explain why anyone on Tennessee's defense would feel that way, but he seemed convinced it was the case.
Tennessee was a three-touchdown favorite over the Gamecocks, and a majority of South Carolina's fans — at least those on the internet — claimed to feel a sense of dread heading into the game. The Vols best-in-the-nation offense, on paper, was supposed to breeze its way past a South Carolina offense that didn't score a single point at Florida the previous week.
Perhaps Tennessee's defense bought too much into that, in Beasley's mind.
"Like I said, we just … I assume we just felt like it was gonna be given to us," Beasley said. "We felt like we didn't have to, you know, go out there and work for it. We thought they was just gonna, you know, lay down. Props to them. You know, they came out, they played a great game. They played physical."
South Carolina scored touchdowns on its first five possessions against a Tennessee defense that didn't have senior linebacker Jeremy Banks for reasons coach Josh Heupel has declined to clarify. The Gamecocks then went three-and-out to open the third quarter before scoring touchdowns on their next four possessions.
The Gamecocks had 10 possessions aside from two run-out-the-clock drives to end each half. Nine of them reached the end zone.
Beasley said Tennessee's defense just never got dialed in enough to punch back.
"I guess we just didn't realize at the time, what was going on. I don't know," Beasley said. "The biggest thing was we weren't executing the calls that we've been executing all year. They didn't do anything spectacular, anything abnormal.
"We just didn't … we didn't do what we were supposed to do at the end of the day."
Tennessee, which tumbled four spots to No. 9 in this week's Associated Press poll, ends the regular season with a tougher-than-expected Saturday game at in-state rival Vanderbilt. The Vols, who will be led by backup quarterback Joe Milton III, need a win in order to potentially book a spot in a New Year's Six bowl game.