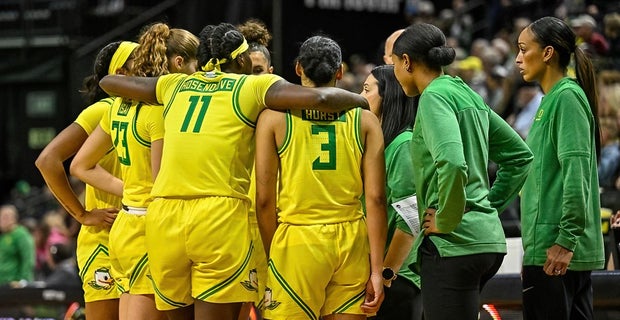 PORTLAND, Ore. — The 18th ranked Ducks will face their biggest test yet when the square off with No. 8 North Carolina as part of the Phil Knight Invitational on Thursday afternoon. The two ranked squads are set for a 2 PM tip at the Chiles Center in Portland and will air on ESPNU.
Oregon (4-0) has rarely been challenged this week. They cruised their first three games with an average winning making of 41 points before beating Southern Utah 66-54 on Monday in a game they led by 26 points after three quarters. 
Oregon has been led in the early season by balanced offensive play. Freshman Grace VanSlooten (13.3 points per game) leads all scorers with Te-Hina Paopao (12.8), Chance Gray (11.0), Jennah Isai (11.0) and Endyia Rogers (10.8) also in double-figures this season. 
The Tar Heels reached the Sweet 16 of last year's NCAA Tournament before falling to eventual national champion South Carolina by eight points. Much of what made that team dangerous returns this season. 
"I've seen North Carolina a couple of times and they're really really good. They're long and they're athletic. They've got playmakers. They've got size. They're really the whole package. They look like a top 10 team which I think is where they're at," Kelly Graves said on Monday. "We're going to have to play pretty close to as best as we can play to compete with teams like that." 
Junior guard Deja Kelly and junior forward Alyssa Utsby return after being among the ACC's top 15 players as voted by the league's coaches. Kelly was a member of the 10-player first-team and Utsby the five-player second.
Through four games, Utsby has led the team with 15.5 points per game to go with 8.3 rebounds per game, while Kelly has averaged 13.7 points per game. Three other UNC players also average in double-figure scoring, as the Tar Heels, like the Ducks, are a balanced offensive operation that averages about 84 points per game this season. 
Oregon will either play No. 5 Iowa State or Michigan State on Sunday. The PKI final will be held at 4 PM at the Moda Center, while the consolation championship will tip at 10 AM at Memorial Coliseum. 
Follow the game's action in our live updates thread here!