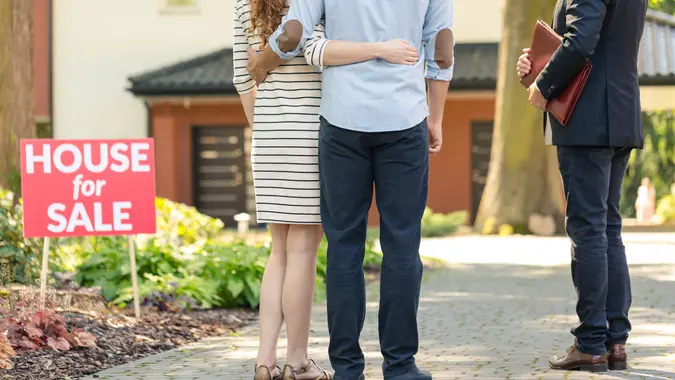 KatarzynaBialasiewicz / iStock.com
If you've been paying attention to mortgage rates, then you know they're much higher now than they were a year ago. The average 30-year fixed-rate mortgage in the U.S. stood at 6.15% as of Jan. 19, 2023, according to Freddie Mac. That's up from 3.56% the previous year.
Expert Advice: With Rates So High, Is High-Yield Savings Better Than Stock Market?
Know: 3 Things You Must Do When Your Savings Reach $50,000
Real Estate Rebound: Demand for New Mortgages Jumps 28% in One Week
What you might not know is that even though rates have nearly doubled in a year, they are still low compared to where they've been in the past. In fact, mortgage rates only seem high now because they are coming off historic lows. For most of the 2010s, average rates on a 30-year FRM hovered at 5% or lower — an outlier when compared with the previous decades.
Mortgage rates during the 2000s mostly stayed above 6%, according to the St. Louis Fed. During the 1990s, average rates were usually 7% or higher. The lowest average rate during the 1980s was 9.06% in February 1987, while that decade's highest average rate was a mind-boggling 18.27% in September 1981. During most of the late 1970s, average mortgage rates stayed above 9%.
Given those figures, suddenly a 6.15% mortgage rate doesn't seem that expensive. While mortgage rates are certainly an important factor when buying a new home, they are far from the only consideration. Here's a look at four other factors when you are buying a home now:
Home Prices
For home buyers, one positive trend in 2023 is that prices are expected to keep falling from the record highs they hit the previous couple of years. Fannie Mae expects average home prices to fall by 1.5% nationwide this year, according to a report from Experian. But others expect a much steeper drop — including analysts at Goldman Sachs, who project that home prices could fall by 5%-10% in the coming year.
Take Our Poll: How Do You Think the Economy Will Perform in 2023?
Location
Looking at how much home prices might drop nationally won't be of much use if you are moving to a market where prices continue to rise. For example, a number of cities in Florida continued to see home prices soar in 2022 despite a slowdown in the overall U.S. market. If you plan to buy a home in a market where demand continues to outstrip supply, expect to pay top dollar.
Credit Score
Although mortgage rates are dropping, you won't be able to take advantage of the lowest rates if you don't have a good credit score. A good credit score range is typically around 670 to 739, CBS News reported. If you are in this range or higher, you stand a better chance at getting approved for a mortgage with the best interest rates — something that can help you save tens of thousands of dollars through the life of the mortgage.
When To Make an Offer
Even though the housing market is cooling in much of the United States, that doesn't mean you won't face competition for the right home at the right price. If you find a home that checks all your boxes, make an offer immediately. Buyers who wait around to see if the seller drops their price could be making a costly mistake.
Applying for a Mortgage? Here's What Your Debt-to-Income Ratio Should Be
Housing Market: Factors Retirees Should Consider Before Paying Off Mortgage or Selling
"All they're doing is increasing the probability that one other buyer is going to find the same house and put in an offer," Gary Reggish, a regional vice president at the National Association of Realtors, told CBS News.
More From GOBankingRates
Source link