Gambling
Longtime Big Cat Magician Dirk Arthur Dies
Throwback Las Vegas magician Dirk Arthur has died at 63. He passed away on Oct. 13, 2023.
Arthur's show featured exotic cats, and had not performed in Las Vegas for some time.
We knew him, and he was a really nice guy, although his shows and reputation were marred by persistent controversies related to animal welfare.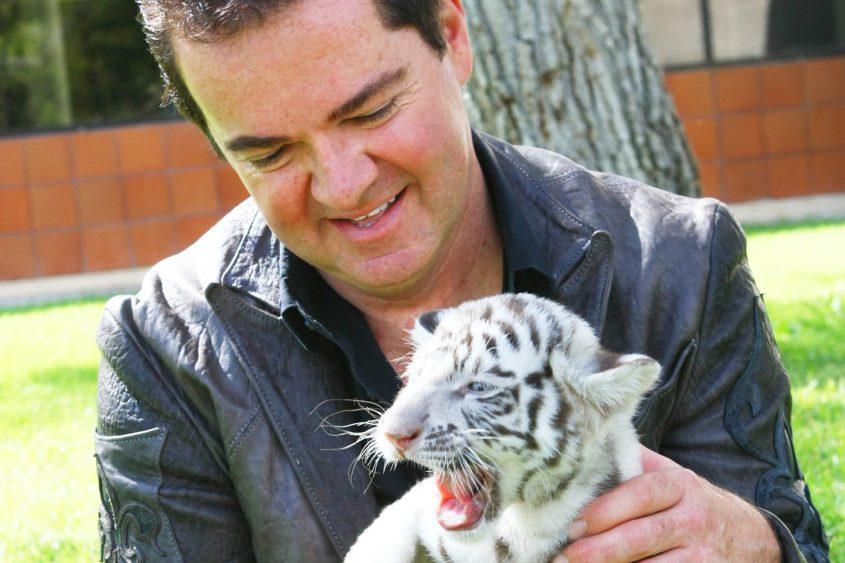 We were the first to share the sad news of Dirk Arthur's passing.
Dirk Arthur wasn't, by most accounts, a particularly good magician. The big cats in his shows made that less important. His show at Westgate, for example, didn't have exotic animals, and it did not fare well.
He performed in a number of Las Vegas casinos, including the aforementioned Westgate, Riviera, Trop, Silverton and Plaza. He started his Vegas journey in "Jubilee" at what was then Bally's.
We first saw his show at O'Sheas, and visited his home when we worked in marketing for Caesars Entertainment.
He kept about a dozen big cats at his Las Vegas compound. The cages were clean, but small, and Arthur treated the cats like family.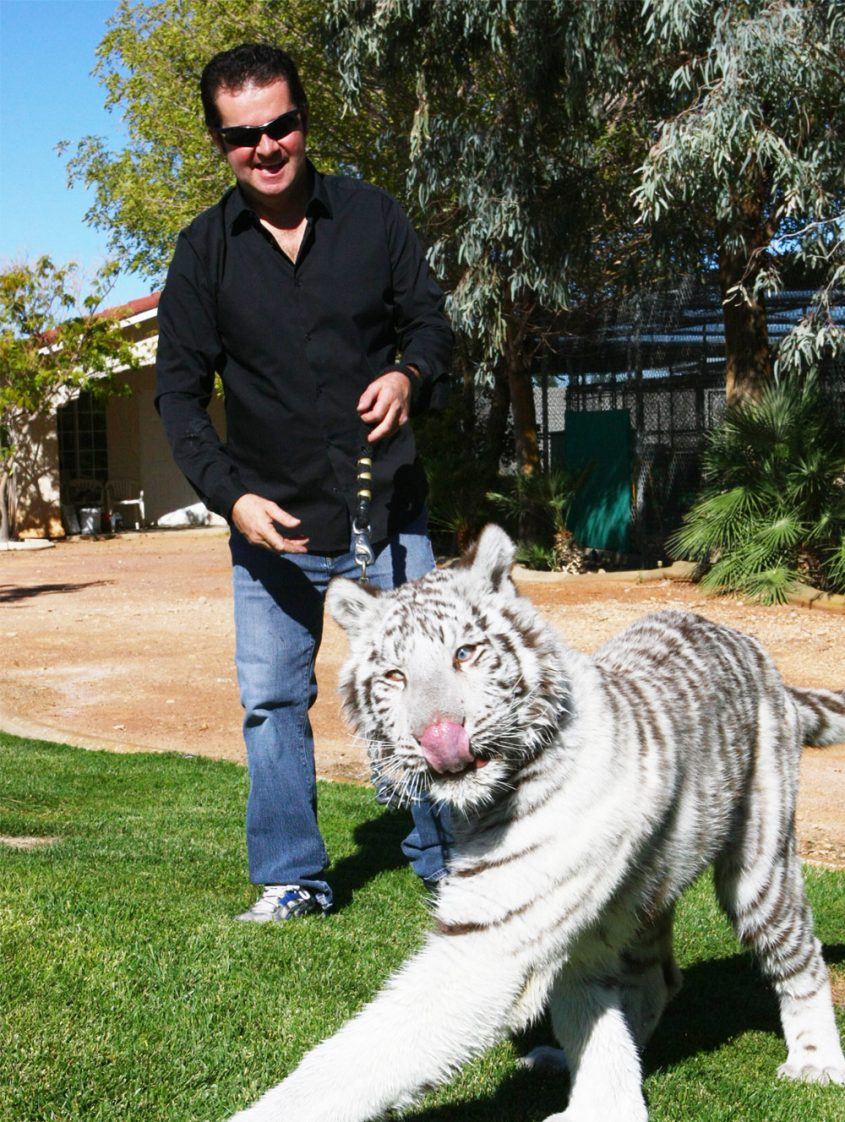 We found Arthur to have an almost childlike quality when it came to interactions with his big cats. We have no idea how he paid for their food and care in recent years. His shows were the economic driver that sustained his collection of exotic animals, and vice versa. Venues became more difficult to find due to changes in the culture that make such shows virtually impossible to produce now.
According to the Las Vegas Review-Journal, which followed up on our news, Arthur's body was found by another big cat magician, Jay Owenhouse.
Owenhouse tried to bring a show with big cats to The Strip, but got the appropriate smackdown from authorities. Jay Owenhouse plans to open a show in a tent without exotic animals.
Dirk Arthur had long been in the crosshairs of animal advocates, and upon news of his death, PETA couldn't help but chime in with a tone deaf statement, "Magic acts with exploited wild cats disappeared from the Strip years ago, and PETA is calling for any exotic cats who survived Dirk Arthur to be sent to accredited sanctuaries where they'll have space to roam, opportunities to swim and climb, and freedom from stage lights and filthy cages at last."
We don't disagree, but the guy's body is still warm.
Arthur endured ongoing conflicts with advocacy groups, even as recently as mid-2022. He planned to bring his cats to Notoriety at Neonopolis, but the venue was swamped with complaints, and the show was nixed before it ever opened.
While we have mixed feelings about Dirk Arthur and the use of exotic animals for entertainment, we're still saddened to hear of his passing.
In our limited time together, he seemed a good-hearted person who truly cared about his animals.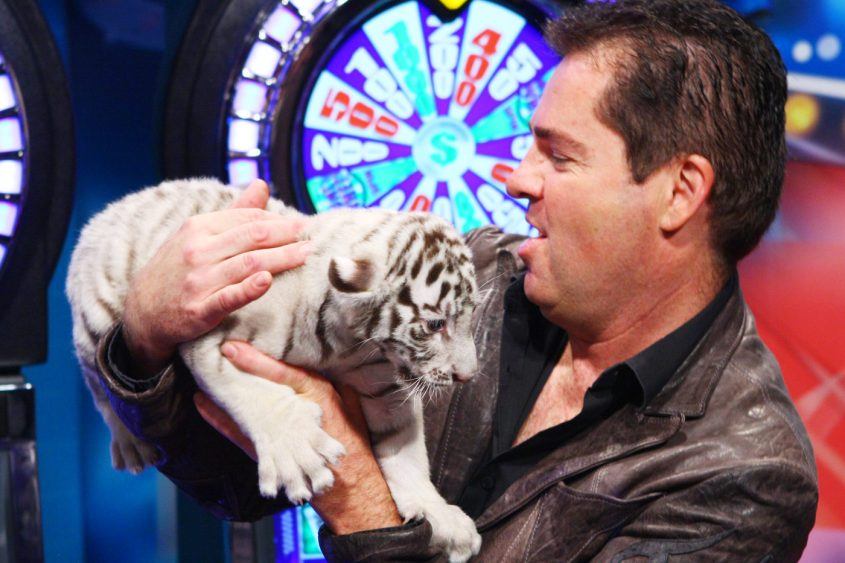 Dirk Arthur gave us our first chance to touch an exotic cat, which we'll never forget.
It was pretty clear Arthur lived in an alternate universe. The use of exotic cats for the purposes of "education" and "conservation" started to ring hollow even back in the Siegfried and Roy era.
Magicians and circuses and theme parks are all coming to grips with the challenges of promoting the welfare of animals without doing harm in the process.
Would we have been a lifelong animal advocate if we hadn't interacted with dolphins at Sea World as a kid?
It's all very complicated, but what's not complicated is Las Vegas has lost one of its own. Cheesy magic shows have always been a part of Las Vegas, and they're much harder to find now in the CGI era.
Dirk Arthur was an old-school showman with a passion for wildlife, and he earned his place on the roster of Las Vegas magicians whose work helped make Vegas Vegas.
Update (10/18/23): Following the publication of our story, we received a heartfelt message from Kele Younger of the Magic Jungle Wildlife Preserve. It provides insight into Arthur's recent struggles, so we're sharing it.
"Initially, I was not going to jump into any controversy with PETA. However, Dirk was a friend since 1990 and that's quite a long time. In the 1990s, we all were performing on the Las Vegas Strip with big cats/magic shows. A friend just sent me the PETA press release regarding Dirk's passing, I was outraged. I believed it to be malicious, threatening and utterly abhorrent. The last remaining years of Dirk's life were utterly destroyed by animal rights fanatics. They published his home address, phone numbers and other private matters everywhere. As a result, he received continuing death threats, constant stalking and vandalism at his property and lived in great fear for his safety as well as the safety and welfare of his animals. Every one of these fanatics that had been stalking, threatening, and literally terrorizing him, now has blood on their hands. He would regularly call me to talk about what he was going through. He was really scared. He even took his Web site down and rarely went out. He was struggling to pay bills and even feed his animals, it was all just so sick. We have one of his black leopards here at our sanctuary and are reaching out to assist in any way possible to help rehome his beloved furry family. One of the last times we spoke we were discussing taking in his snow leopards or a few tigers. My friend Dirk was a lot of things, a savvy, thick-skinned business guy wasn't really one of them. He was quite insecure, shy and rather humble. Overall, he was a really kind, caring person if you actually knew him. I had several intense conversations with him about retiring the animals and building new shows, he had stellar illusions. I felt performing with animals was outdated and wanted him to move on. Although that strained our friendship at times, we remained friends. I do not believe my friend Dirk died of a heart attack but, rather, of a broken heart. What these sick animal rights fanatics did to him and his animals was utterly inhumane whilst they raise millions allegedly fighting against inhumane treatment."