Gambling
"Discoshow" Details Revealed in Casting Call
The greatest era in music is getting its own show at Linq, "Discoshow." The greatest era in music was disco. In case that wasn't readily apparent.
The show recently began the search for performers and the casting notice provides some insight to what audiences might expect when "Discoshow" opens mid-2024.
"Discoshow" comes from Spiegelworld and the demented geniuses behind "Absinthe" at Caesars Palace, "OPM" at Cosmo and "Atomic Saloon" at Venetian.
Why are we talking about the show when it doesn't open until 2024? Because Spiegelworld. And disco. Please keep up.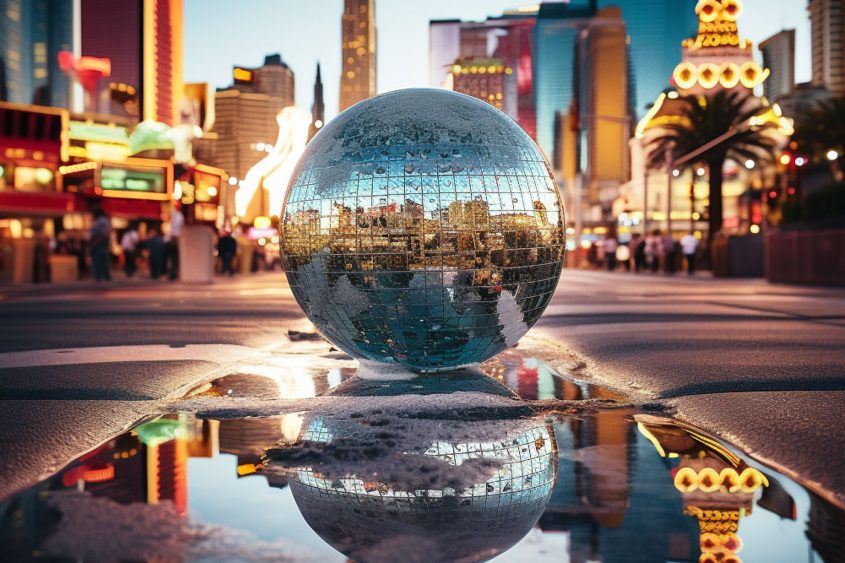 The production will happen in the space that used to be the hotel's sportsbook, renamed the Glitterloft. Demolition of the space was recently completed.
Before (2014ish) and current pics of the sportsbook at Imperial Palace, now Linq. Next up, "DiscoShow." https://t.co/smoUCetMzN pic.twitter.com/c0YAmurA7V

— Vital Vegas (@VitalVegas) May 5, 2023
Here's what the casting notice provides as the show's "storyline": "Spiegelworld's 'Discoshow' is inspired by the spirit of David Mancuso's famous Loft parties which erupted out of the squalor and oppression of 1970s New York and gave birth to disco. The DJ was worshiped and salvation was found on the dance floor. A group of young New Yorkers, from all corners of the city, invite you to join them on a night out as they embrace their lust for life and search for the space where they can live out loud. Discoshow is an experiential event with a 1970s soul and a 2020s attitude. Set inside a transformative space, this 70-minute live show is unlike any other entertainment in Las Vegas—an intensity of light, sound, LED video, movement, dance, humor and emotion. We are not a passive audience sitting on the sidelines. There are no seats. We are invited to step inside the action with the characters; into their lives, on the streets, at the club—encouraged at every moment to lose and find ourselves in the music. To have fun. And to dance."
Today we learned the collective noun for "light, sound, LED video, movement, dance, humor and emotion" is "intensity."
As with everything Spiegelworld, there's a lot of backstory you don't need to know to enjoy the show, it just adds layers to your enjoyment if you know the backstory.
We get the feeling it's not really about the story in "Discoshow." It's the vibe.
Our main takeaway from that "storyline" is the Glitterloft won't have chairs. Brilliant, really!
Without chairs, you can sell more tickets.
In addition, no chairs means no conflicted Yelp reviews saying the chairs were uncomfortable and it felt like you were sitting on someone's lap. Looking at you, "Absinthe."
The biggest benefit of having no chairs? Standing ovations, literally every show. (Criss Angel gets them, too, but it's through chicanery.)
The show is looking for a dozen featured performers. We'll just share these as an image to avoid any transcription errors, and by that we mean it's easier than exerting actual effort.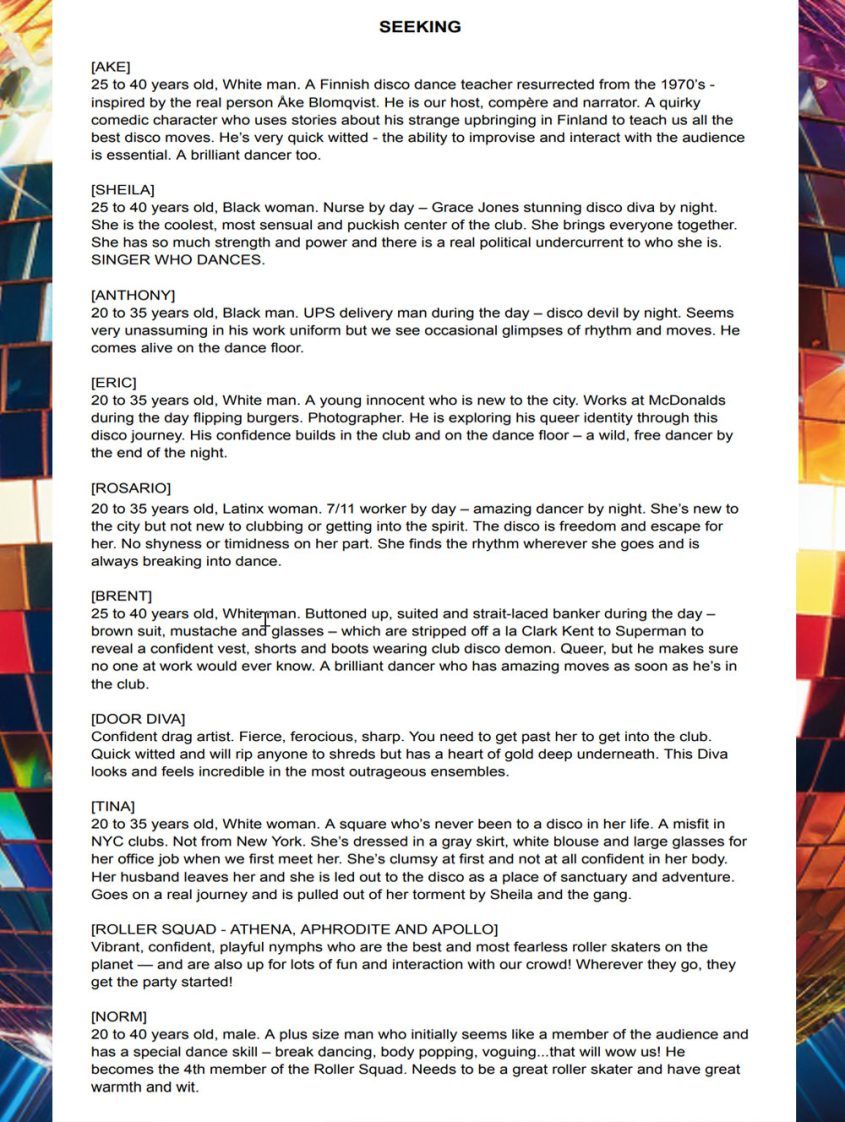 The casting call also provides a little inside baseball related to compensation. We trust these numbers are standard for performers in Spiegelworld shows, so, now we know what performers earn in these popular productions.
The "rate of pay" for "Discoshow" will be $1,200 per week during rehearsals. The show pay is a minimum of $2,100/week for 10 90-minute (or shorter) shows per week (two shows per day, five nights a week).
An additional perk: "Access to an employee shared health insurance program."
The compensation is pretty good, but the bar is high and there's a lot of competition.
A note from Spiegelworld says, "We're not just looking for performers; we're searching for storytellers. Those who can weave tales through a gesture, a stance, a fleeting glance. We are looking for folks who can commit wholeheartedly to the devising process. While prior experience in devising is preferred, a strong aptitude and willingness to dive into this approach is equally valued."
Ah, theater people.
The "devising process," of course, means the show is unlikely to be scripted, but will be developed during the rehearsal process. Unlike with TV shows and movies, the lack of a finalized script isn't chaos, it's a gift to performers, as they can bring their talents and inspiration to the endeavor and make the parts, and the show, their own.
The improvisation can then be honed and audiences get to see the results of a truly collaborative process.
If you've seen any of the current Spiegelworld shows, you can see the fruits of this creative process. Spiegelworld shows have an energy that's tough to duplicate, which is why the "Absinthe" formula (circus plus variety plus comedy) isn't easy to steal. Although, Cirque managed it pretty well with "Mad Apple" at New York-New York.
We're genuinely excited to see what Spiegelworld has in store for "Discoshow," even if we have to wait a damn year to see it (the show as announced in March 2023). Let's go!