Blog
IDF says Hamas blocked fuel delivery to Shifa Hospital as troops advance in Gaza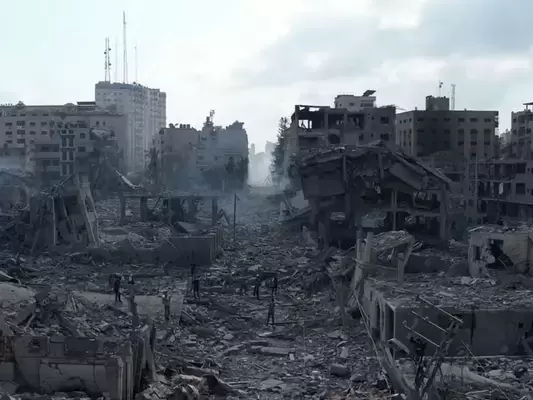 Amidst the ongoing conflict, Israeli forces made significant strides on Sunday in the northern reaches of the Gaza Strip. They seized control of an urban area proximate to Beit Hanoun, with intense clashes persisting in the vicinity of Shifa Hospital. Israel affirmed its commitment to safeguarding civilians and patients amidst the hostilities.
The Israel Defense Forces (IDF) reported the provision of 300 liters of fuel to Shifa Hospital in collaboration with its staff. Regrettably, Hamas obstructed the beleaguered medical facility from accepting the essential supply. The situation unfolded as combat around Shifa Hospital persisted, with Israel underscoring its dedication to minimizing harm to civilians.
Allegedly, Hamas established its primary operations base beneath Shifa Hospital, prompting the IDF to urge Palestinian civilians to evacuate the northern Gaza area. Simultaneously, sporadic rocket launches from Gaza targeted southern border towns, triggering alarms in evacuated kibbutzim like Holit, Kfar Aza, Nahal Oz, and Sa'ad. Fortunately, no injuries were reported.
As of Sunday evening, the IDF recorded 42 casualties in the Gaza ground operation, with no new fatalities reported since Saturday. The military disclosed supplying jerrycans of fuel for urgent medical needs near Shifa Hospital, but Hamas allegedly obstructed its delivery.
Health officials in Gaza claimed that thousands of medics, patients, and displaced individuals were trapped near Shifa Hospital, facing electricity shortages and dwindling supplies. The IDF, however, refuted these claims, asserting that the east side of the hospital provided a safe passage for Gazans wishing to leave.
IDF Chief of Staff Herzi Halevi, addressing southern mayors, reiterated the military's singular focus on defeating and dismantling Hamas. Acknowledging previous shortcomings, he vowed to prevent a recurrence of similar events, emphasizing the IDF's commitment to its mission.
The Shin Bet and IDF jointly announced the arrest of around 20 Hamas members in the heart of the Gaza Strip. This operation aimed at gathering intelligence, conducting special operations, and interrogating the detainees to support ongoing ground maneuvers.
The IDF facilitated humanitarian pauses in northern Gaza, allowing Palestinians to evacuate south. Salah a-Din Road served as a crucial corridor during specified hours. Israel contended that Hamas's main command center lay beneath Shifa Hospital, accusing the group of employing the hospital and its occupants as human shields.
Efforts to deliver humanitarian aid to Gaza continued, with COGAT reporting over 14,000 tons of aid entering the Strip. Despite these efforts, humanitarian organizations deemed the assistance insufficient. Israel countered by asserting that Hamas hoarded fuel and supplies, exacerbating the plight of Gaza's civilian population.