Classifieds
Gen Z Doesn't Care If Their Luxury Merch Is Counterfeit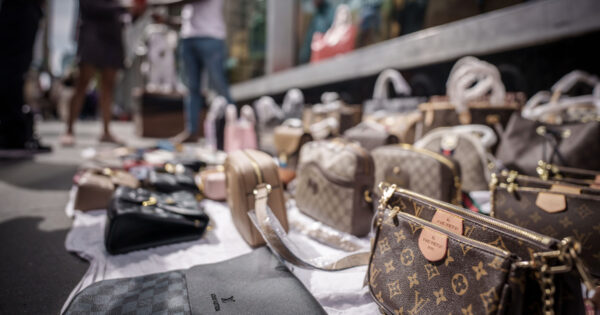 Earlier this year, former Real Housewives of New York City star Bethenny Frankel posted a TikTok video of herself prowling the shelves of T.J. Maxx in search of bargains. Soon enough, she found one: a pair of Manolo Blahnik Hangisi crystal buckle pumps in flamingo pink (and in her size, no less). The price? $869.99—not cheap, but a respectable discount from the full retail price of $1,225. Frankel was psyched. "These are coming home with me," she said.
But the reality TV star savored her find only until another TikToker—a former footwear sales associate named Jack Savoie—posted his own video.
"Wait, Bethenny babe," he said. "Those are fake Manolos."
Savoie reviewed the evidence—the off-center label, the incorrect typeface, the plastic sole, and so on—then concluded his video with advice: "Bethenny, I think you need to go return those shoes."
But Frankel didn't return the shoes. Instead, she told her 1.5 million followers: "I'm going to wear these fake counterfeits with pride, 'cause I own them now."
Frankel was saying more than she might have realized. The fear of accidentally buying a fake has hovered over the luxury segment for decades. But now there's a new attitude about counterfeits that's gaining ground—one that'll bring no comfort and joy for luxury brands during the 2023 holiday shopping season.
Roughly half of Generation Z—the cohort that will soon unseat millennials with their $360 billion in spending power—isn't bothered about buying counterfeit stuff at all. In fact, many prefer fakes over the real thing.
How phony goods got cool
That's the key finding of the State of the Fake report just released by Entrupy, an authenticating firm that uses artificial intelligence to distinguish genuine designer handbags and sneakers from the imposters—a service that's increasingly in demand within the luxury resale business. (TikTok, which introduced its TikTok Shop ecommerce feature in September, is among Entrupy's clients.)
Drawing on data and experience from its work in the U.S. as well as the EU, Entrupy determined that just over half of Gen Z consumers (50.7%) were "indifferent" or "not concerned" about counterfeit merchandise.
Here's how that sentiment breaks down. Fifty-two percent of shoppers aged 15-24 said they'd purchased a counterfeit product online in the last year—and 37% admitted to having done it intentionally. One in three said they either found it hard to tell a genuine item from a fake, or simply didn't care enough to try. And a vast majority of Gen Z (nearly 73%) are "satisfied" with the fakes they own.
Since selling counterfeit items is obviously illegal, another of the study's revelations is that these young shoppers were so candid about owning and liking phony merch in the first place. But that candor doesn't surprise Entrupy CEO Vidyuth Srinivasan.