Mobile
These are the best Apple Watch Ultra 2 bands
Pick from these bands options to maximize your user experience with the Apple Watch Ultra
In 2023, the Apple Watch Ultra 2 places itself at the pinnacle of Apple's smartwatch lineup. And if you've bought the most expensive wearable that Apple currently has on offer, it's likely that you're looking to expand the collection of bands at your disposal.
Here, we've created a curated collection of bands — across a range of prices — that are currently available on the market. We've made sure to include a variety of materials, too, so you're able to choose one that works perfectly for your wrist.
Bands for the 45mm Apple Watch or 1st generation Apple Watch Ultra (45mm/49mm case size) are compatible with Apple Watch Ultra 2.
Trail Loop Band (Apple Watch Ultra)

Lightweight

The Apple Trail Loop is available in two sizes, and Blue/Grey, Black/Grey, and Yellow/Beige colors. It's a thin, lightweight loop made of soft double-layer nylon weave with a pull tab for quick adjustments. It looks beautiful, and it matches perfectly with the Apple Watch Ultra. 

Alpine Loop Band (Apple Watch Ultra)

Highly Secure

The Apple Watch Ultra is heavily advertised with the Orange Alpine Loop band, but it's also available in Green, and Starlight colors. It's also available in three sizes, and it's rugged, and made from two textile layers with continuous stitching with a titanium G-hook for a more secure fit. 

Ocean Band (Apple Watch Ultra)

Diving Oriented

The Apple Ocean Band comes in three colors, Yellow, Midnight, and White. It's molded in a high-performance elastomer and can stretch for a perfect fit. It comes with a titanium buckle and an adjustable loop. It's compatible with 44m, 45mm, and 49mm cases. 

Sport Band (Apple Watch Ultra)

Standard Option

The Apple Sport band comes in Stale Blue, (PRODUCT) RED, Elderberry, Midnight, Starlight, Succulent, and White color options. It's available in several sizes, and it's made from high-performance fluoroelastomer. It's a durable, strong, and soft band that's excellent for everyday activities. 

DMVEIMAL Silicone Band (Apple Watch Ultra)

Budget Option

The DMVEIMAL silicone band is an inexpensive option that you can purchase to add variety to your band collection. It features a simple magnetic clasp system that's convenient to wear and remove. But while great for day-to-day use, we recommend swapping to something more secure when taking part in adventure activities.

Spigen DuraPro Flex (Apple Watch Ultra)

Nylon Alternate

The Spigen DuraPro Flex is designed for the Apple Watch Ultra and is also compatible with the previous generation Apple watches. It has a durable zinc alloy buckle and a lightweight and durable fabric for long-lasting comfort. 

MoKo Titanium Band (Apple Watch Ultra)

Metal Link

The MoKo Titanium Band for Apple Watch Ultra is an inexpensive option that brings a classic flair to your band collection. It's available in two colors, Silver and Titanium. The manufacturer states the band's material uses 96% titanium, allowing it to weigh just 72 grams, making it comfortable for all-day wear.

SUPCASE Unicorn Beetle Pro (Apple Watch Ultra)

Promoted

In partnership with SUPCASE

The SUPCASE Unicorn Beetle Pro case is one of the best rugged protective cases for the Apple Watch Ultra. It's sturdy, and it even comes bundled with two tempered glass screen protectors. The case even comes with an adjustable band, and it's perfect for everyday use.

NOMAD Rugged Band (Apple Watch Ultra)

Premium Pick

The NOMAD Rugged Band for Apple Watch Ultra is a perfect combination of material and design for comfortable all-day wear. It features ribs between each buckle point that allow your skin to breathe while you're out exercising. The rubber material used in its construction — FKM — is also waterproof and should last a long time before you see any visible wear.

NOMAD Traditional Band (Apple Watch Ultra)

Natural Leather

The NOMAD Traditional Band is a great option for your Apple Watch if you want to add a bit of class to your smart timepiece. It's made with vegetable-tanned leather, which will patina as you wear it on the daily, giving it a look that's unique to you and your experiences.
Which Apple Watch Ultra Band should you buy?
When you purchase the Apple Watch Ultra 2, you'll have the choice to pair it with one of the three bands offered, specifically for this model — Trail Loop, Alpine Loop, and Ocean Band.
If you've chosen the Trail Loop or Alpine Loop, we highly recommend adding the Ocean Band to your collection for water sports. But if you're looking for an official silicone alternate that's more comfortable for daily wear, the Sport Band is a great choice. The DMVEIMAL Silicone Band we've featured above is an alternate worth considering if you want to add multiple colors to your collection without racking up a large bill.
When it comes to the rugged style of bands, the SUPCASE Unicorn Beetle Pro or the NOMAD Rugged Band add the aesthetic and function you'd expect. If you're looking to protect the watch case from damage, the SUPCASE will be a great pick.
Lastly, if you want to bring a classic aesthetic to your wearable experience, the Leather Band from NOMAD or the MoKo Titanium Band are both options that embody a traditional watch. They'll help transform the Apple Watch Ultra into a wearable that belongs in places other than the outdoors and the gym.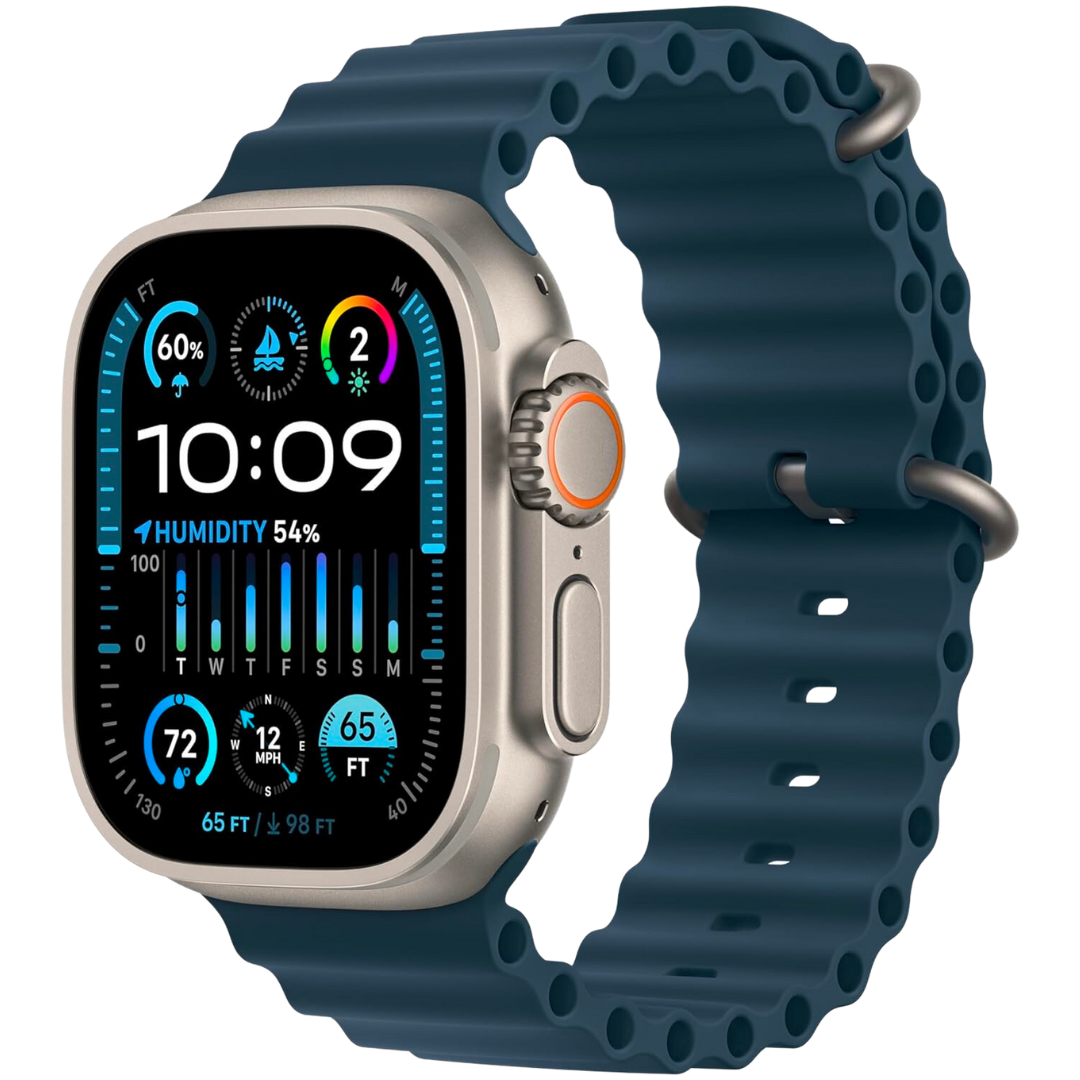 Apple Watch Ultra 2
Premium Pick
The Apple Watch Ultra 2 is powered by the new Apple S9 chip, and comes with improved tracking. It's rugged, powerful, and it can last for up to 72 hours in Low Power Mode. It has the brightest display on any smartwatch, and it provides advanced metrics and views for you to track workouts.
Source link